Peacock is not a first-class suite. It is neither business class, premium economy, nor multi-room "residence" suite — it is all of them at the same time. Designed for wide-body aircraft, Peacock is fluid and space-efficient layout that allows instant transformation among a variety of configurations to create unique products that suit a wide spectrum of market. Peacock is a groundbreaking concept that gives operators increased revenue potential for its valuable front-end space and introduces to passengers exciting new experiences.
First class suites is an endangered species. What if they are made of building blocks that can be combined and split to offer permutations of products at different seat densities? Operators will then be able to use this flexibility to expand the reach of a product in both the up-market and low-market direction to increase the load factor. Here is the idea:
First Class
The latest top-of-the-line first class suites these days give each passenger around 35sqft of floor space per suite, roughly the size of a queen bed.
Honeymoon Suite
The same space is perfect for a couple to share, in which case the space per person is similat to airline business class. This is a good alternative passengers who prefer to sit close to their travel companion.
Family Suite
The space can also be configured to seat up to 4 if the ottomans are also certified for passengers. This creates a nice "family room" where parents can sit with up to 2 kids face-to-face.
Co-joined Suite
On the premium side of the scale, extra value can be created if adjacent spaces are co-joined to form a suite with separate bedroom and living areas. This is an interesting option for passengers who can afford more space.
Private 3-room Apartment
A lavatory that can be "privatized" for the exclusive use of part of the cabin can be a valuable option for passengers who desire complete privacy, such as the ultra-rich, head of states or A-list celebrities.
Peacock is a layout that allows such flexibility to be put into practice. It is a single aisle configuration that fits wide-bodied aircraft such as the Boeing 777 or the Airbus A350, comprising of a semi-circular space on each side of the cabin, Y-shaped converging aisles, and a diamond-shaped twin lavatory.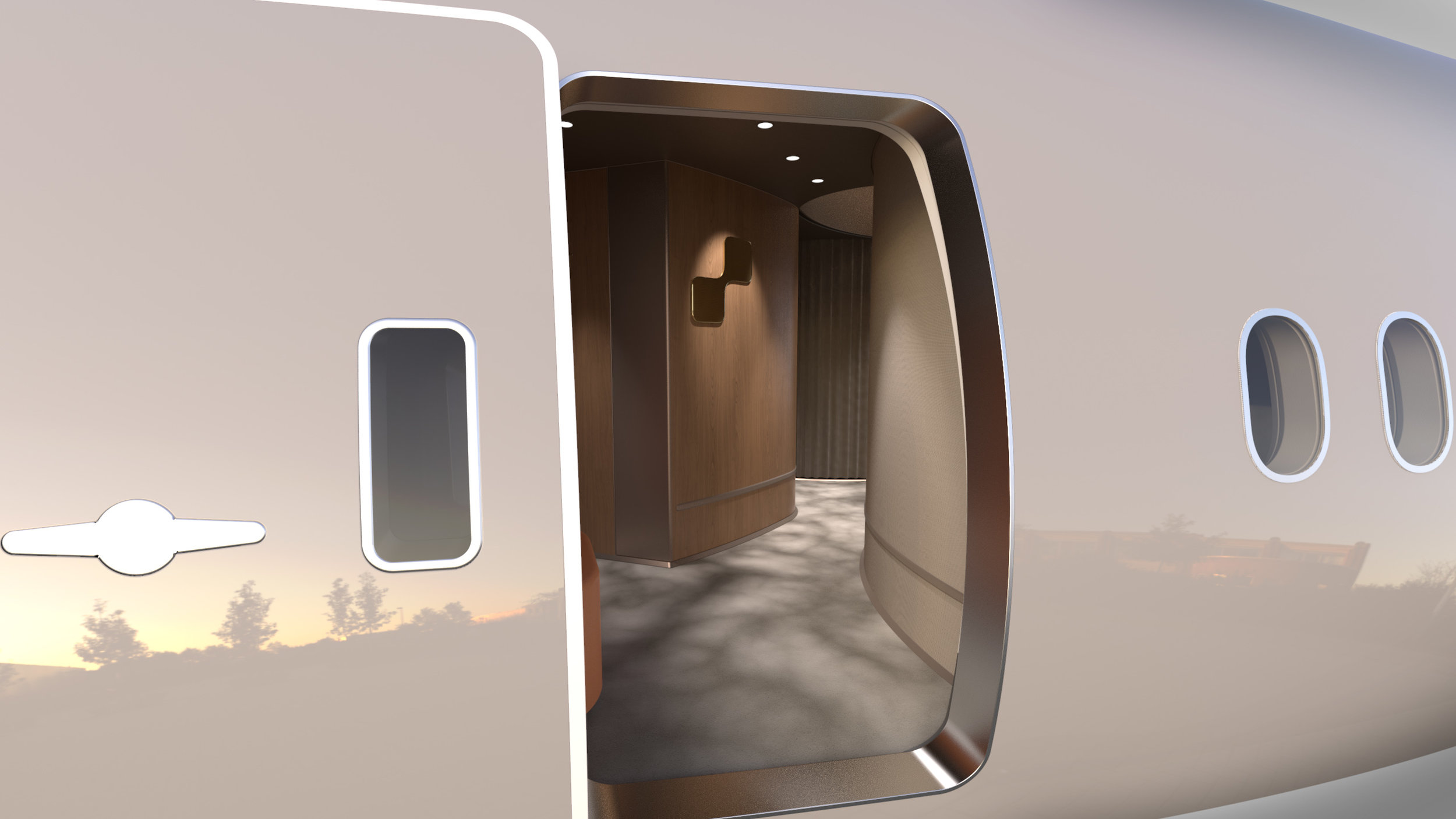 The Peacock experience starts from the entrance- without passing the galley, passengers are led through the curved aisle into the spacious central foyer.
Full-height curtains, effective in blocking lights and sounds, let passengers gain full control of their own experience and schedule without disturbing others.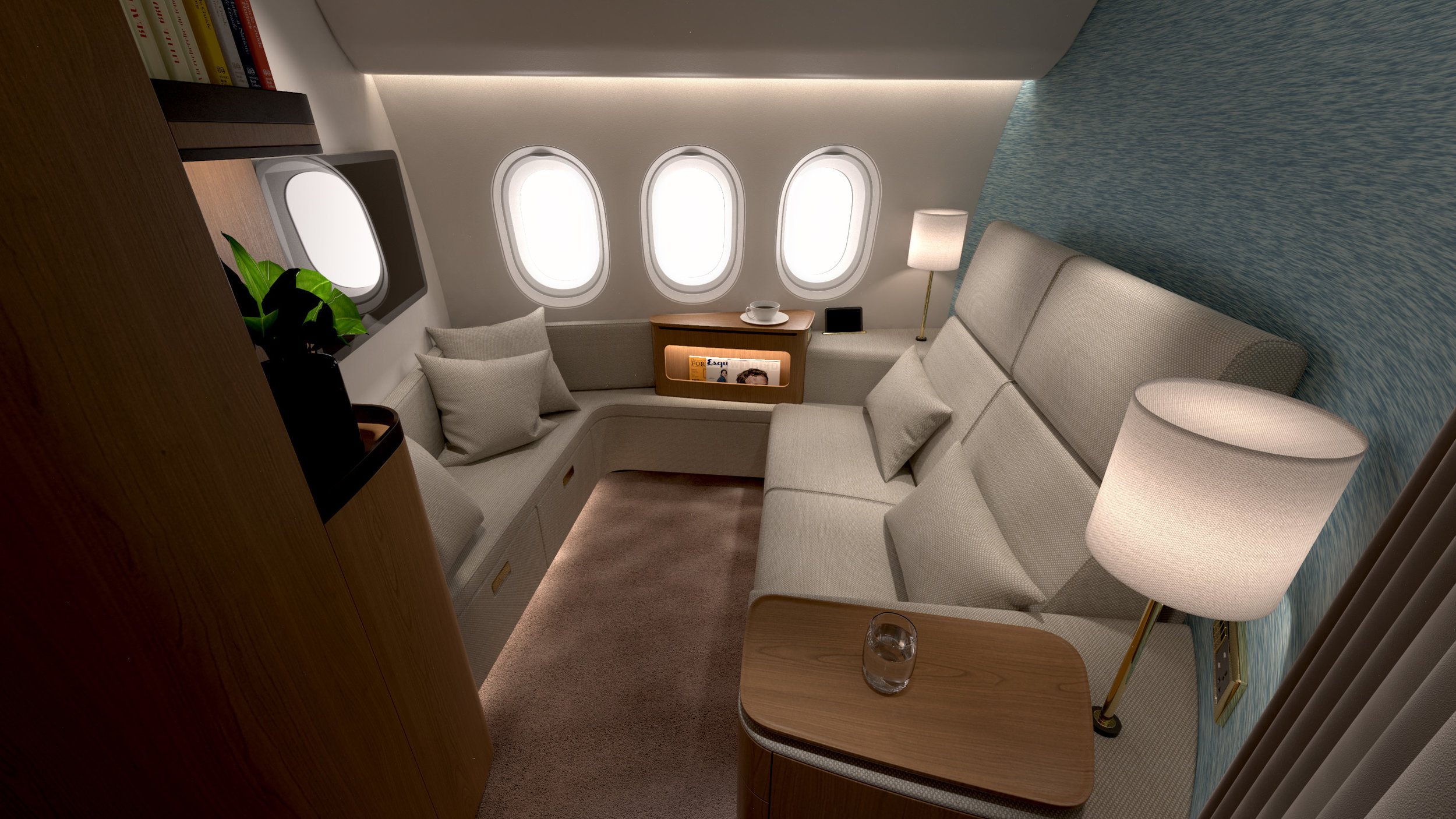 Whether for an individual or a family, Peacock is about providing a homey private retreat, with gorgeous views above the clouds, comfortable sofa, spacious beds and generous storage.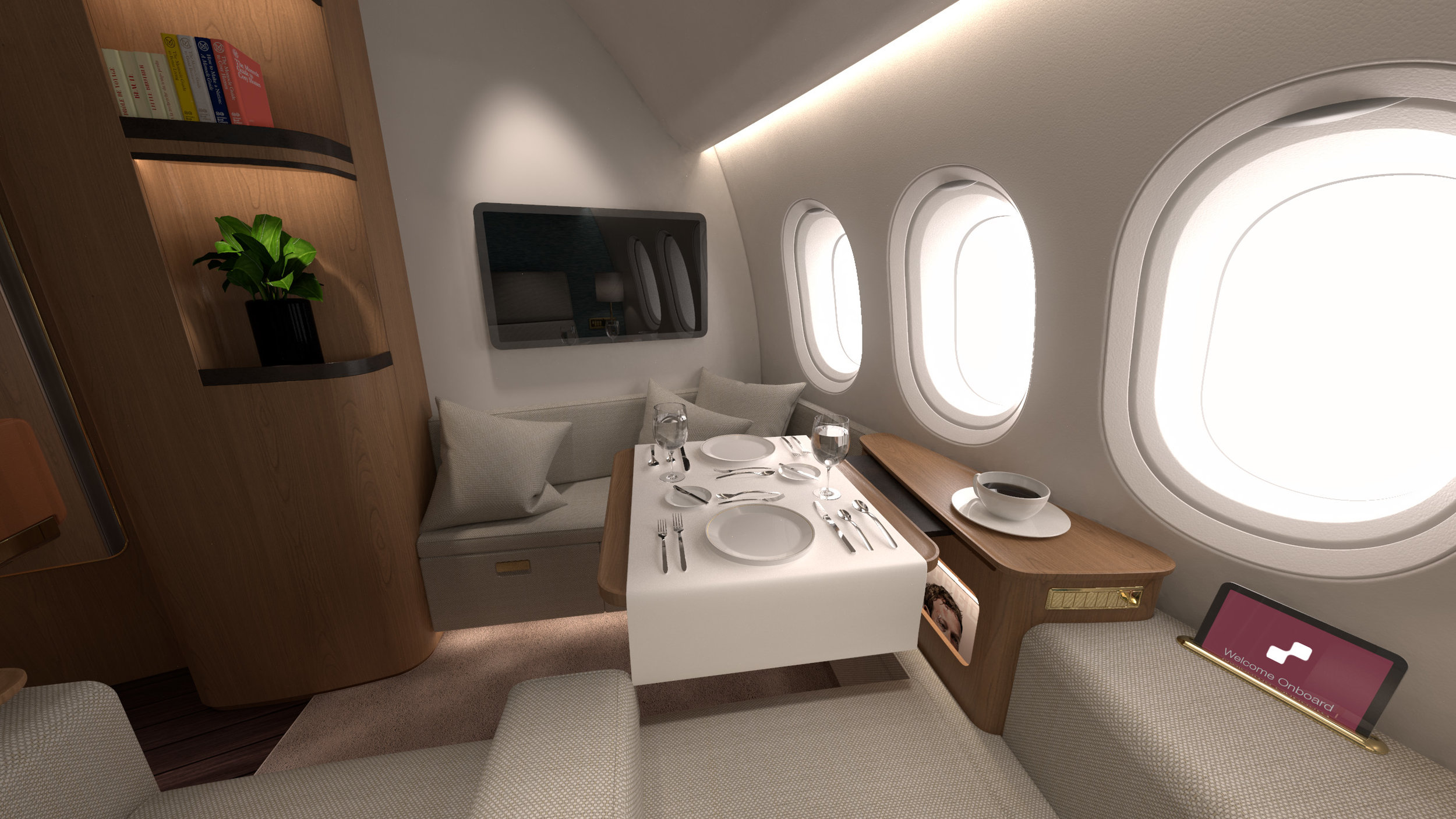 Peacock is also about bringing back the romance of air travel- the shared experience. Super wide couch and face-to-face dining all for people to enjoy the company of close friends and family.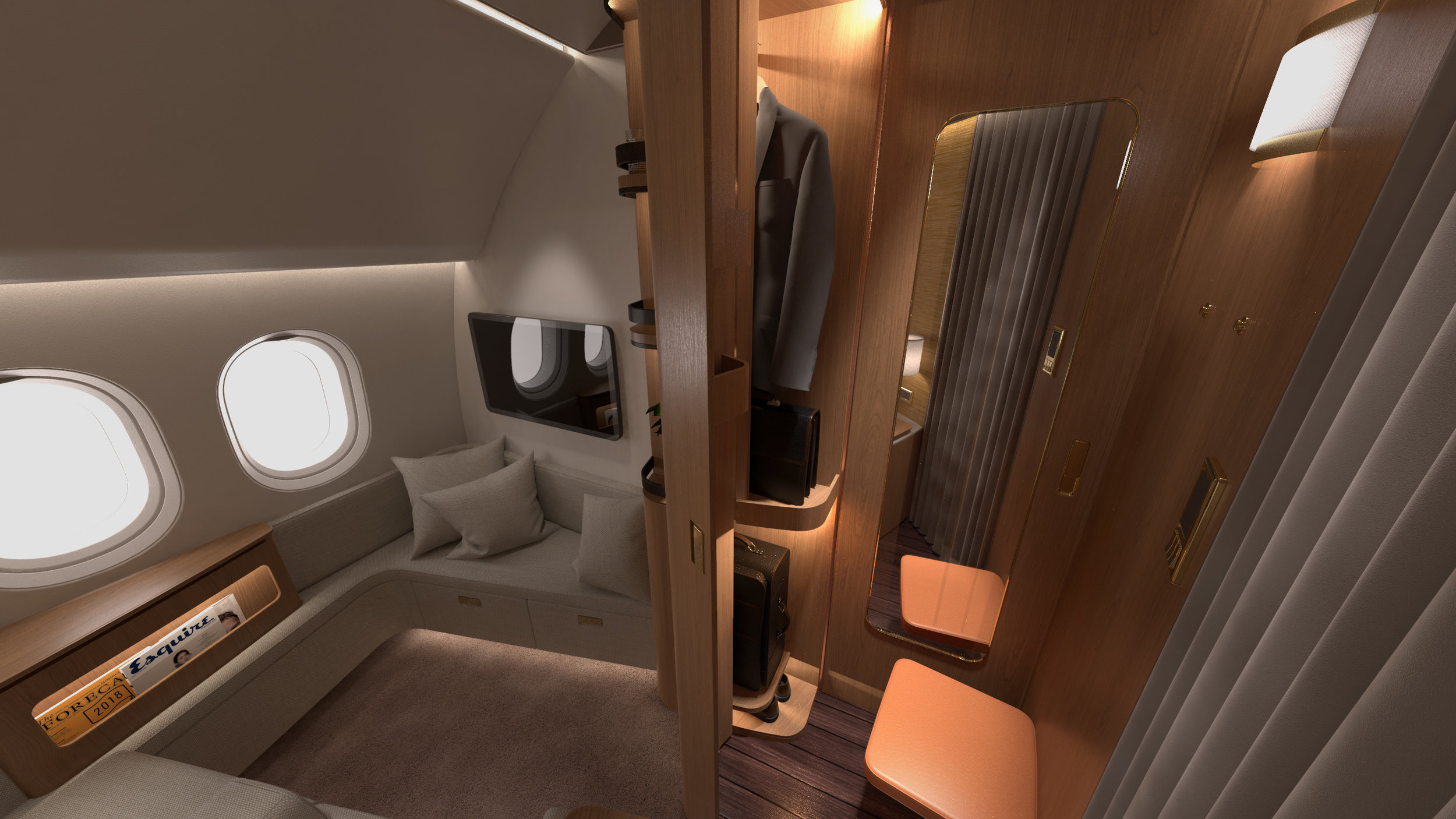 A full height closet, a bedside cabinet and a storage ottoman together provide ample capacity for all the passenger's belongings. The closet door, when opened, creates a semi-private changing area at the corner of the suite.
A drop-down bunk bed for young children may be configured in place of the overhead locker, allowing parents to sleep comfortably separately.
The joining of adjacent spaces delivers synergy by forming true "suites" with one space configured as living room, the other as bedroom throughout the flight.
The addition of a private lavatory access creates the ultimate luxury in spaciousness and privacy, enabling airlines to compete to a certain degree with private jets.
The business case of Peacock lies in expanding the reach of the product to a much wider spectrum of customer profiles. While high-end consumers are expecting more and more in terms of space and features, the aviation industry on the other hand are operating in a competitive market that is full of uncertainties. Flexible cabins, with its fluidity to morph into many different products, is one way to break free from the constraints- it allows valuable floor space to be more efficiently for a faster return on investment.